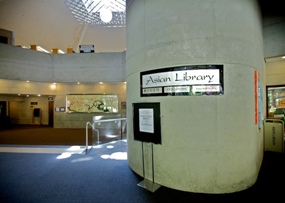 UBC Asian Library provides support for scholars, students and community members who conduct research on, or are learning about Asia and Asian heritage. Asian Library maintains Asian-language holdings (totaling 663,000 volumes as of June 2016) in eleven languages including Chinese, Japanese, Korean, Hindi, Urdu, Punjabi, Sanskrit, Tibetan, Persian, Indonesian and Vietnamese. In addition, the library is actively engaged in providing access for Chinese and Japanese rare materials, and also works with library and external partners on the digitization of rare items.
In addition to its outstanding collections, our library is actively involved in the research mandate of the university by co-hosting and otherwise supporting academic conferences and events. We also support student learning through classroom visits and instruction for Chinese, Japanese, Korean and Indic-language programs. Finally, community engagement is one of our overarching pillars, and we invite community members to join us for exhibits and programming to build community connections with our students and researchers.
Originally established as the Asian Studies Division of the old Main Library (now the Irving K. Barber Learning Centre), the Asian Library  has been operating at its current 21,500 square feet, three-storey premises in the Asian Centre as of 1981, when the Centre opened.
Resources:
Building an Academic Library in the Heart of Pacific Canada: the case of the Asian Library at the University of British Columbia (by Eleanor Yuen, Former Head)
The Big Idea – film on the making of Asian Centre
2016
Launch of Living Library Pilot project with PCHC-MoM.
Asian Library formed two book clubs (Chinese and Japanese) in the fall term.
Shirin Eshghi became the Head of Asian Library.
2014
Hana Kim accepted the position of Head of Asian Library.
Launch of Council on Library and Information Resources (CLIR) Hidden Collection Project.
2013
Eleanor Yuen, Head of Asian Library, retired in June after 14 years of service.
The iconic roof and skylight replacement project was completed in January.
2012
Asian Centre lobby was reconfigured into an Informal Learning Commons.
In cooperation with the Ohio University Libraries, Asian Library hosted the 5th WCILCOS International Conference of Institutes and Libraries for Chinese Overseas Studies on Chinese through the Americas between May 16-19. (http://wcilcos.library.ubc.ca)
2011
The Pang Jingtang collection is appraised by Dr. Tai-Loi Ma, Director, East Asian Library, Princeton University.
2010
The Pang Jingtang collection and Ron Bick Lee Papers were acquired.
The Asian Library memory databank was launched.
2009
Launch of Ming Pao community news digitization project.  Ming Pao is one of the three major current Chinese newspapers in Canada.
In collaboration with more than 10 UBC departments and units to offer a one-day event named "Asia Voilà" to showcase the rich Asian-related resources at UBC.
Their Majesties the Emperor and Empress of Japan viewed items from the Asian Library rare books collection, as well as rare Japanese maps from Rare Books and Special Collections.
2008
A community reception was held to honour Master Wong Toa, a local Cantonese musician and mentor.   A related exhibition on Cantonese opera in British Columbia was mounted at the Asian Centre lobby.
Worked with representatives from Simon Fraser University, Vancouver Public Library, the British Columbia Library Association, and Library and Archives Canada to host the IFLA (International Federation of Library Associations)Satellite Conference on "Multicultural to Intercultural:  Libraries Connecting Communities".
Professor Jae-gap Song, an emeritus professor of Tongguk University donated approximately 3,000 titles of books, mostly in literature and religion of Korea in 1970's.
2007
Korea Foundation pledged to provide US$120,000 over four years to support for Korean-language collection development in designated disciplines.
Collaborated with Simon Fraser University in digitizing the Chinese Times as part of the Multicultural Canada digitization project.
The total number of public workstations was increased to 20, 15 of which were loaded with language training software for Chinese, Japanese, Korean, Hindi and Punjabi.
Acquired the Si Ku Collection, the most important resource for the study of pre-modern China.
2004
The first phrase of "Transition to Online Journals" project was introduced.
Princess Takamado of Japan visited the Library and presented a donation from the Japan Foundation. This donation included a set of books on Noh masks, the history of Japanese advertisements, and early 20th century women.
The library online catalogue system with Unicode support was introduced. This facilitated the retrieval and display of bibliographic records in Chinese, Japanese and Korean.
2001
Asian Library, the Centre for Chinese Research, UBC and the David Lam Centre at Simon Fraser University collaborated to develop an online archive of Historical Chinese Language Materials in British Columbia.
Online full-text journal began to be acquired.
2000
In collaboration with the Institute of Asian Research, Asian Library hosted a photograph exhibition titled "The Faces of Irregular Migrants."  The Asian Library Open House was held annually to celebrate Asian Heritage Month.
Received a donation of US$10,000 from Mrs. W.S.C. Chao towards the Si Ku Quan Shu CD-Roms.
1997
Asian Library acquired the Swann Collection, which contains roughly 1,000 unique titles, including some rare reproductions of Japanese and Chinese paintings.
1995
Worked with the Fuji Publishing from 1995 to 2001 to reproduce a sixteen-volume set of Kanada Iminshi Shiryô [Hisotrical Materials of Japanese Immigration to Canada].
1994
Preservation project of Japanese-Canadian materials continued on Kanada Shinbun [The Canada Daily News] and Nikkan Minshû [The Daily People].
1993
Automated circulation system was implemented.  Users were no longer asked to fill out a circulation slip for every item they borrowed.
1992
Korean-language material acquisition began.
1991
With the grant from the Asian Pacific Foundation of Canada and contribution from the Friends of Asian Library, the Puban Collection was appraised by Prof. Tsuen-hsuin Tsien and Dr. Ming-Sun Poon.
1989
The Indonesian-language collection was established.
1987
The first preservation project of Japanese-Canadian materials began with the microfilming of Tairiku Nippô [The Continental Daily News].
1984
The Consulate-General of India in Vancouver donated books on Indian art and architecture.
1981
Asian Library moved into the new Asian Centre, and was officially designated a UBC Library branch.
1975
A large collection of books in South Asian languages was received from the University of Washington.
1974
The construction of the new Asian Centre began.
1971
Chinese Times, the longest-running Chinese-language newspaper in Canada, was received as a donation from the publisher.
1970-71
The University of British Columbia was given the roof and structural framework from the Sanyo Pavilion, built for the 1970 World Exposition in Osaka, to serve as the base for the new Asian Centre.
1968
South Asian materials were first included in the Library collection following the establishment of the Shastri Indo-Canadian Institute.
1967
Geraldine Seto and Tong Louie donated the collection of the late Seto More. The collection consisted of 1,100 titles in 2,300 volumes and represented the largest private donation made to the UBC Asian Library at that time.
1965
Jing Yi Zhai and Song Xuepeng collections were purchased with a large donation from H.R. MacMillan.
1964
Acquisition of the G.H. Beans collections of rare Japanese maps of the Tokugawa period (1603-1867).
1960
Tung-King Ng accepted as the head of the Asian Library.
Prof. R. Dore helped acquire the private collections of Sir George Sansom & Dr. Herbert Norman.
1959
Puban Collection was acquired with the support from the Asia Pacific Foundation of Canada and Dr. Walter Koerner.
Asian Library was designated as the Canadian depository library for Japanese Government Publications.
1948-49
Course titled "Modern Chinese History since 1644" was offered by Dr. Ho Ping-ti.
Asian Library developed a 50th anniversary memory databank in 2010 for the following purposes:
1. document the history of the development and growth of the library
2. preserve the photographs, documents, and memorabilia pertaining to library-related activities
3. document the memories of the people involved in the establishment of the library
4. enlighten the UBC and the wider community about the library's services and programs
We worked together with cIRcle, UBC's digital repository to create four main categories:
1. Articles/Publications
2. News room
3. Audio-visual records
4. Historical materials and miscellaneous
Welcome to the Asian Library's gallery. Here you'll find images of the Library – history, building, collections and events. Look up more at Flickr …
Chinese Books [Display] (1954)
UBC Archives [UBC 1.1/2157]
Priscilla Scott examining Chinese book collection (December 1959)
UBC Archives [UBC1.1/2243]
Construction of Asian Centre (1974/75)
UBC Archives [UBC1.1/183-6]
Construction of Asian Centre (1974/75)
UBC Archives [UBC1.1/183-4]
Asian studies in Main Library
UBC Archives [UBC1.1/9121]
Tung-King Ng, Asian Library
UBC Archives [UBC 44.1/2465]
Linda Joe, Asian Library with Chinese dictionary from the P'u Pan collection
UBC Archives [UBC 44.1/2553]
Move of Asian Studies Library
to Asian Centre
UBC Archives [UBC 41.1/981-2]